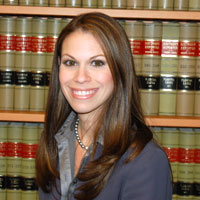 Partner
Email: smendez@llmlawfirm.com
PROFILE
Sherleen M. Mendez is a Partner at Lehr Levi & Mendez. Ms. Mendez focuses her litigation practice in the areas of white-collar criminal defense, pre-indictment investigations, postconviction relief, and appeals. Her litigation practice oftentimes involves handling parallel civil proceedings commenced by the Securities & Exchange Commission and/or the Department of Justice Asset Forfeiture Division. During the course of her practice, Ms. Mendez has litigated numerous complex cases in both state and federal courts involving securities fraud, mail and wire fraud, mortgage and bank fraud, public corruption, international and domestic extraditions, drug trafficking, and violent offenses.
PROFESSIONAL
BACKGROUND
Prior to joining Lehr Levi & Mendez (Formerly Lehr Fischer & Feldman) in September 2006, Ms. Mendez handled all aspects of pre-trial and trial litigation as Assistant Corporation Counsel for the New York City Law Department, Tort Division. As a supervising attorney, Ms. Mendez represented the City of New York, its Departments of Education, Transportation and Sanitation, as well as its Health and Hospitals Corporation in all tort claims. She has extensive experience negotiating settlements, appearing at civil preliminary and compliance conferences, and presenting oral arguments before all Civil and Supreme Courts throughout the City of New York.
Ms. Mendez is a member of the Florida State Bar and the New York State Bar. She is fluent in Spanish and has a basic language proficiency in French.
NOTABLE
CASES
Representation of Scott Rothstein's law partner in connection with the $1.2 billion Ponzi scheme.
Representation of a director of a company indicted for a $170 million bank fraud – one of the largest factoring frauds in Florida history.
Representation of a president of a company charged with participating in a $49 million wire fraud conspiracy involving fraudulent letters of credit. The criminal case involved parallel civil proceedings before the Securities and Exchange Commission.
Representation of a prominent businessman charged with a $135 million real estate fraud scheme where the alleged victims included hundreds of investors, including a Roman Catholic Prep School.
Post-conviction representation of a City of Miami Assistant Fire Chief charged with one count of conspiracy to commit mail and wire fraud and two counts of mail fraud.
Representation of the former Mayor of the City of West Miami charged with two counts of exploitation of his official position.
Representation of a Canadian citizen facing extradition to France for an alleged sexual offense.
Representation of the Clinical Director of a Miami-based mental-health clinic, charged with participating in a Medicare fraud scheme involving the submission of more than $50 million in fraudulent billings to Medicare.
PRACTICE

AREAS

:

Criminal Law (State and Federal)
BAR

ADMISSIONS

:

Florida (2001) and New York (2003).
COURTS

:

U.S. District Court, Southern District of Florida (2006)
U.S. District Court, Middle District of Florida (2007)
U.S. District Court, Northern District of Florida (2008)
U.S. District Court, Southern District of New York (2008)
EDUCATION

:

J.D., University of Miami School of Law, 2001. Member, Moot Court Board. Executive Editor, Entertainment and Sport Law Review. Best Brief Award Recipient, C. Clyde Atkins Moot Court
Competition, 2000.

B.S., cum laude, Florida International University, 1998.
LANGUAGES

:

Spanish and French.